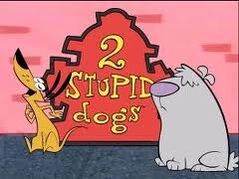 2 Stupid Dogs
is an American animated television series, created and designed by Donovan Cook and produced by Hanna-Barbera and Turner Program Services, that originally ran from September 5, 1993, to May 15, 1995, on Syndication and TBS. The main segments of the show featured two dogs, called "The Big Dog" and "The Little Dog" in the credits. The Big Dog was voiced by Brad Garrett and the Little Dog was voiced by Mark Schiff.
Ad blocker interference detected!
Wikia is a free-to-use site that makes money from advertising. We have a modified experience for viewers using ad blockers

Wikia is not accessible if you've made further modifications. Remove the custom ad blocker rule(s) and the page will load as expected.